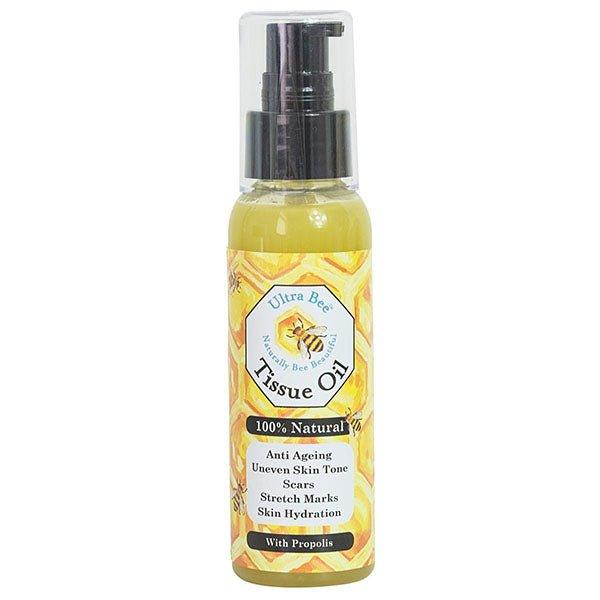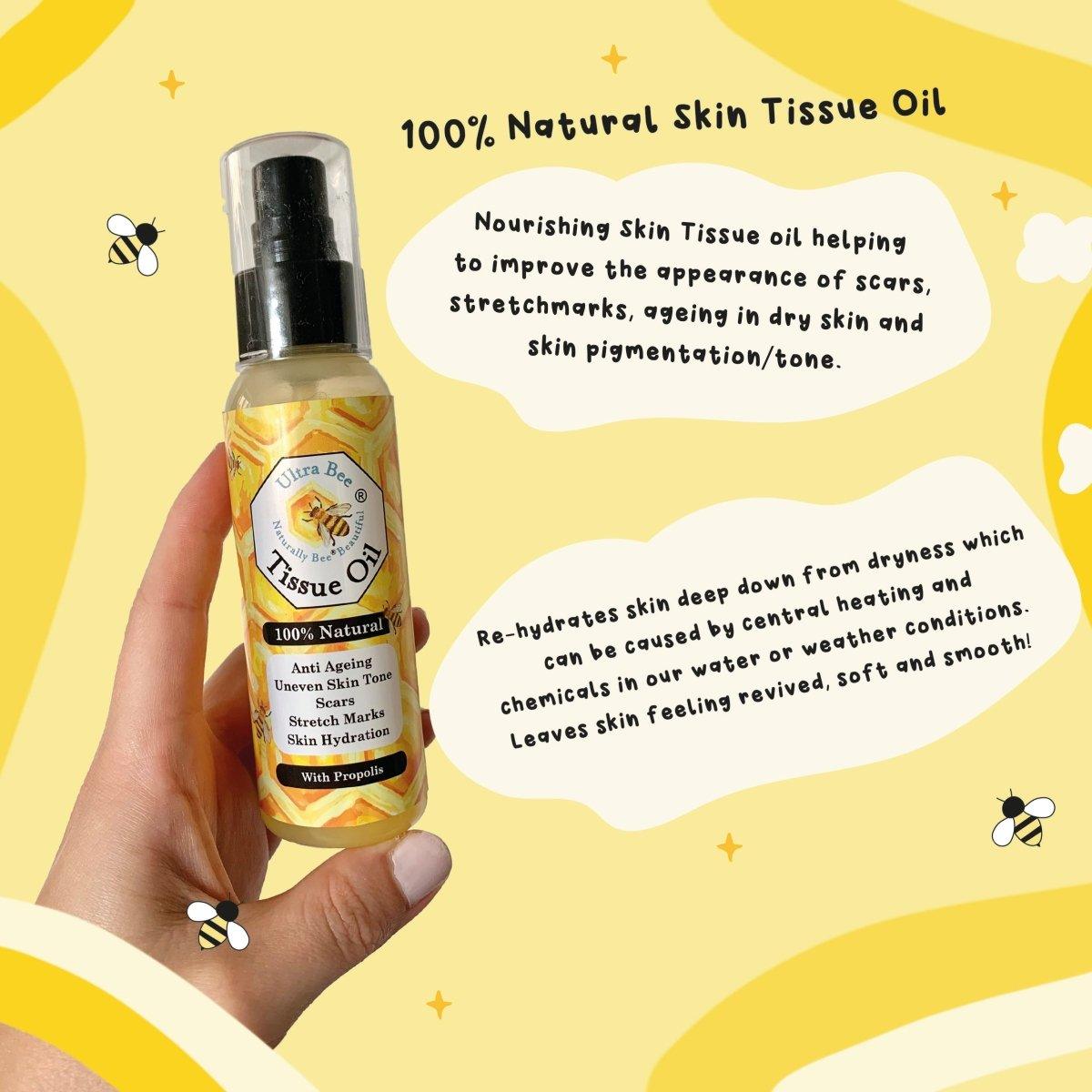 100% Natural Tissue Oil Rosehip, Rose Geranium, Neroli 100ml
---
Huge Discount - Spend £60+ for 20% OFF
Description 
100% Natural Skin Tissue Oil - Rosehip, Calendula , Rose Geranium, Neroli 100ml
Nourishing Skin Tissue oil helping to improve the appearance of scars, stretchmarks, ageing spots, dry skin and skin tone.
Re-hydrates Skin Deep Down from Dryness which can be caused by central heating and chemicals in our water or weather conditions.
Leaves skin feeling revived, soft, smooth and supple 
Easily Absorbed  Ultra Bee Skin Tissue Oil is High In Vitamins, Especially Vitamin B12 & E, Has 22 Amino Acids & 27 Minerals Including
Zinc, Calcium, Copper, Magnesium, Iron, Proteins, Enzymes, Co-Enzymes.
Beeswax, Propolis and Honey  are High in Fatty Acids, Vitamins, Enzymes, Minerals, Protein, Co-enzymes and Anti-oxidants
No Chemicals, Colourants, Preservatives, Perfumes, Lanolin, Petroleum, Aqueous Cream, Parabens, SLS, Steroids No Synthetic or Artificial Ingredients
Gorgeous floral fragrance of  Neroli & Rose geranium 
Suitable for an all over massage therapy
No Animal Testing
100% Free of Artificial Chemicals
More Information
Our unique combination of ingredients are highly effective for ageing skin and provide significant relief from the discomfort associated with dry, itchy and flaky skin. Easily absorbed into the skin and containing beneficial healing properties of Rosehip, Rose Geranium, Calendula and Bitter Orange specially selected to promote a healthy and radiant skin.
Effective in helping to maintain the elasticity of scar tissue on joints and other high-mobility areas.
Helps to improve the appearance of uneven skin tone caused by hormonal fluctuations, skin-lighteners or excessive sun exposure. Visible as dark patches on the face or body, uneven skin tone often becomes most apparent during pregnancy, menopause or after exposure to high volumes of UV light.
Helps to improve appearance of existing stretch marks, by helping to increase the elasticity of the skin, thereby the possibility of new stretch marks forming is reduced.
Our Specially chosen ingredients have been specially chosen to help reduce the appearance of wrinkled and sagging skin, hydrating and nourishing helping to improve the texture, tone and appearance of fine lines and wrinkles, replenishing the skin's natural oils.
Suitable for Sensitive and Hypoallergenic skin.
Texture: Oil

Smell: Citrus Floral 
Ingredients 
Helianthus Annus (Sunflower) Seed Oil, 100% Natural Cera Alba (Beeswax, Honey, Propolis and Pollen), Persea Gratissima (Avocado) Oil, Hydrogenated Avocado (Butter) Oil, Rosa Canina (Rosehip), Calendula Officnalis(Calendula), Pelargonium Graveolens(Rose Geranium), Citrus Aurantium Mara (Bitter Orange), *Geraniol, *Citral, *Limonene, *Citronellol, *Linalool  - * derived from essential oils.
Featured Ingredients
Rosehip (Rosa Canina)
This essential oil contains Omega 3,6 and 9, vitamin C, lycopene and linoleic acids. All of these elements help regenerate skin cells, minimize the signs of aging, reduce fine lines, boosts collagen and moisturizes skin leaving it feeling soft and pampered!
Contains Tretinoin which is the active ingredient in many dermatologist-prescribed wrinkle reducers. Helps to hasten skin renewal and cell regeneration. The face becomes firmer and smoother as signs of aging diminish. Improves the appearance of scars.
Rose hip oil also helps fade age spots and reduces uneven pigmentation. Other benefits are: - it corrects UV damage from the sun, reduces appearance of scars, burns and stretch marks, treats fine lines and wrinkles and hydrates dry skin. It also evens skin tone and reduces pigmentation. Also works very well on eczema and psoriasis.
Calendula (Calendula Officinalis)
Calendula oil packs a punch in the skin care industry. This oil is a powerful anti-inflammatory, anti-bacterial agent, and antiseptic. The high content of antioxidants found in Calendula oil contributes to the cell regeneration aspect of the oil.
Calendula is an emollient and can help to moisturize dry skin. Irritated rashes will benefit from using calendula. Calendula has been shown to work in the prevention of acute dermatitis. Calendula is excellent for healing wounds. Using calendula increases both wound closure and protein metabolism (forming new skin).
Calendula speeds up cell proliferation which quickens healing. It also keeps wounds from hardening and forming scars. It would be beneficial to use for healing the perineum after childbirth. It helps to heal burns (including sunburn), bruises and inflammatory diseases of the skin.
Rose Geranium (Pelargonium Graveolens)
Rose geranium oil helps to balance the secretion of sebum and clears sluggish and oily skins, while the antiseptic and cicatrisant properties make this oil an effective aid to help with burns, wounds, ulcers and other skin problems.
This oil aids in calming fungal infections as well as skin ailments such as, acne, psoriasis, eczema and itchy skin. Rose geranium cleanses oily skin and revitalizes skin cells. Being antibacterial, antifungal, antiseptic and anti-inflammatory, it eliminates or stops the growth of fungi and bacteria on wounds and keeps them from developing nasty infections.
The essential oil of Rose Geranium acts as a natural cleanser and hydrator. It can help you achieve a clear, glowing skin.
This essential oil also serves as an anti-aging agent as it tightens muscle tissues, keeping the skin from premature sagging.
Promote cell growth and fade unsightly scars and spots on your skin.
Rose Geranium strength lies in the ability to revitalize tissue. Used by skin care specialists in restoring balance between oily and dry skin and hair.
Neroli Light (Citrus Aurantium Amara)  Bitter Orange 
Cuts or wound that are at risk of becoming infected, can be protect from infections effectively by Neroli Light as it is an antiseptic.
It is also useful for treating bacterial skin conditions and rashes as it is an anti-bacterial and keep the body free from microbial infections.
Neroli possesses a whole host of anti-scarring properties. This is particularly useful in "erasing" acne scars, stretch marks, and other marks caused by pox and wounds.
The cytophylactic effects of Neroli help maintain the health of skin cells and promote the growth of new ones. This keeps the skin's elasticity, allowing it to remain supple while reducing unsightly lines and wrinkles.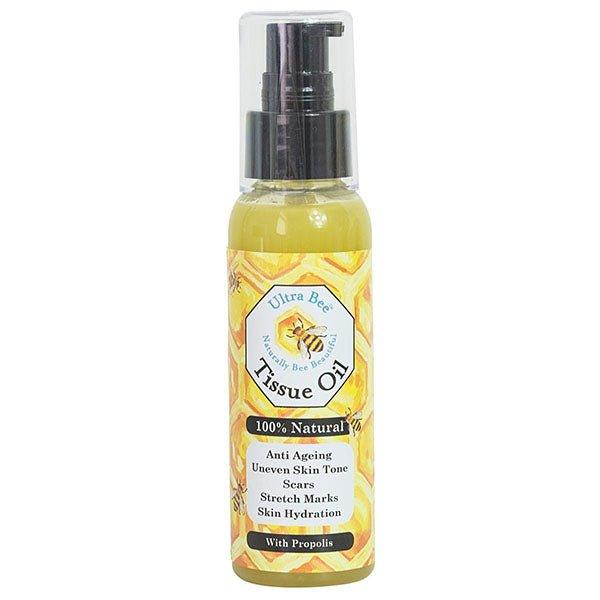 This product is rated 5.0 of 5.0 stars.
It has received 42 reviews.
This product is rated 5.0 of 5.0 stars.
It has received 42 reviews.
Love the smell
I'm rebuying this as I really love it. A little goes a long way so it lasts a while, the smell is divine. Use it neat when my skin's really dry, and also add it to a tub of aqueous cream for after the bath, it's perfect. Very happy with this product, there's really nothing like it
Tissue Oil
It is amazing, an excellent product. My scars look so much better.
My skin has never felt so soft.
Thank you
The best moisturiser ever
This is truly the nicest product for my face and body. I love the smell, the feel and how soft and gorgeous my skin feels.
will definitely buy again
I bought this product after reading all your positive reviews. I have not long had a total hip replacement and wanted something to soften and nourish my skin on and around my scar. It arrived promptly and well packaged and when I opened up the bottle I was met with the most amazing scent. The oil is very light and is absorbed into the skin very easily. My scar and the surrounding area is beautifully soft, and I don't think the scar would have healed aswell as it has in such a short space of time if I hadn't been massaging this gorgeous oil into my skin.
Tissue oil
This oil is fantastic, smells lovely 🥰, I've been using it on an old scar/bruise on my knee that I've had since I fell at my daughters in 2019! I tore the ligament behind my knee as well